I'm not going to wait until the Thunder lose another game to put the bow on a second consecutive disappointing season.
Let's start by counting our blessings so we can spend the rest of the blog griping about this incredibly frustrating team. First, how cool is it that we have an NBA team? If you grew up in Oklahoma City and are old as dirt like I am, you remember when downtown OKC was a Spaghetti Warehouse, poorly maintained brick streets and a few random drunks. I never imagined we'd ever have a major sports team, especially after we got rejected by the NHL of all things.
Second, we've obviously been spoiled by some great teams. By all accounts we should basically be the Sacramento Kings, generally irrelevant and happy just to have a team that almost made the playoffs. Instead we've been in the playoffs nearly every year, made an NBA Finals and multiple conference finals, and had two sure-fire Hall of Famers wear our jersey (with a third possible in Paul George). So it could be a lot worse.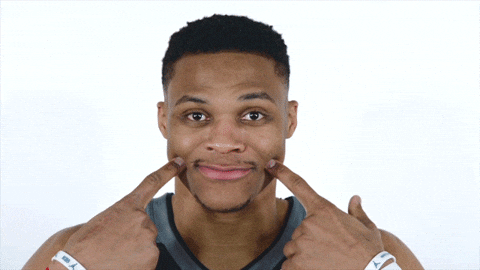 But dang if these last two seasons haven't been frustrating as all getout. The league has turned into a 3-point shooting league and the Thunder is one of the worst shooting teams in the league. When OKC is defending at an elite level it can beat just about anybody, but it's hard to beat good teams when you essentially start the game down 10-0, accounting for extra points opponents get on 3's and free throws most nights.
And then there's Westbrook. He seems to be the the top target of Thunder fans' frustrations, and not without reason. It was really cool when he took over the league two years ago, single-handedly carrying an average roster into the playoffs, averaging a triple-double for the first time in modern basketball, and winning a much-deserved MVP (no matter how much arguing the Russ haters do, he absolutely deserved that thing). It's less cool when the bad shots he's always taken are going in at their lowest rate ever and his personal vendettas are driving down the ceiling of what this team can accomplish.
We can all quit waiting for Russ to drastically change the way he plays. If it weren't for the perpetual chip he carries on his shoulder, he might not even be in the NBA. So it's not going to disappear now. Let's also not ignore the organization's role in all of this. From the top down they've built Russ into this machine. They strategically play in a way to pad his rebounding and assist numbers. They let him ignore orders from the coaching staff (shaking off a substitution in a blowout was but one of the more obvious examples). They let him be a jerk to the media.
I get it. This is a players' league, and guys like Paul George aren't going to choose to play in Oklahoma City if everything else is equal. So the Thunder makes this the easiest place to play in the league. And if it weren't for Russell Westbrook, we would be Sacramento. Or out of the NBA entirely. If Russ bolts when KD left, there is no Paul George. There are lots of empty seats at Chesapeake Arena. The Thunder either strikes gold again in the lottery and is relevant in five years or it whiffs and gets moved back to Seattle.
But Russ isn't changing, and he's not getting better at basketball. He's only 30 years old but that's fairly ancient by NBA standards. He has thrived on being an athletic specimen but when you're over 30 and have your knee scoped after every single season you're not going to be standing out in that department for too much longer in this league. So let's accept the fact that Russ is what he is and that he's likely to keep declining a little more every season from here on out.
Target #2 is Billy Donovan. In 2016 he was a genius for throwing Adams and Kanter out there together against the Spurs and scoring a huge upset. And if Russ and KD don't fall apart in the final minutes of Game 6 against the Warriors we might have one of those pretty banners in the rafters that seem like such a pipe dream three years later.
Since then everyone seems to think he can't coach. Personally I think it's pretty hard to tell whether he can coach since the two guys who have the ball in their hands 90% of the time are more or less freelancing out there, and the team wins or loses based on how those two play most of the time.
In Donovan's defense I would argue that the players who might possibly listen to him seem to generally improve, be it Adams, Grant or Ferguson. The team as a whole seems to play hard almost all of the time, Game 4 the other night being a notable exception. (Also, that could be attributed more to Westbrook, who certainly sets the tone with his tenacious play). On the flip side, critics can fairly point to underachieving regular seasons the past two years and a failure to make adjustments within the playoff series. OKC has had equal or greater talent than Utah and Portland yet hasn't even come particularly close to winning either series.
Personally, I'm ambivalent about Donovan. I have a hard time seeing anyone else come in and do a significantly better job, just like Donovan hasn't done a significantly better job than Scott Brooks did before him. For some unknown reason the team decided to pick up Donovan's option for next season early in this campaign instead of letting the year play out and then making a decision. Had they not done that, I'd probably be in favor of moving on. But it seems kind of dumb to pay two different coaches to say things that Russell Westbrook won't listen to so they may as well keep him for another year.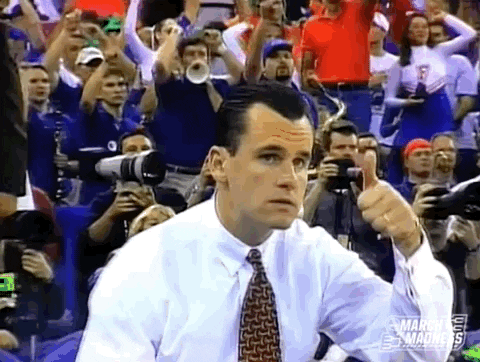 Going forward, it's hard to say there's not much Sam Presti can do because nobody dreamed he could land Paul George and get him to sign here long-term. We also couldn't imagine him trading away a key piece of a potential 10-year dynasty but he did that too. But I'll say it: there's not much Sam Presti can do. Unless he just wants to trade Russ and Paul George and completely reboot, which seems highly unlikely. Steven Adams makes too much money to get anywhere near equal value in return on a trade, and the two-man game with he and Russ is one of the few things this team has going for it anyway. Grant is very valuable relative to his salary, but why trade him? It would just make the team worse without any benefit. If you traded George it would all but guarantee that no star would ever sign with OKC again. Westbrook is way more valuable to this city than he is to anyone else, especially at $40 to $50 million per season. After that, you're talking about guys who aren't relevant enough to bring about any significant change to the organization.
The only chance this team has of making any noise in the playoffs in the next season or two is to pray that Andre Roberson can somehow come back and still be an elite defender (I'd put that at about 5%) and that Grant and Ferguson keep getting better, enough so that it offsets the decline of Westbrook. Then you still need George to get whatever is wrong with his shoulder fixed and go back to the MVP-level of play he displayed for a couple of months this season. All of that, plus KD leaving the West and the Lakers front office continuing to be a clown show.
Otherwise (and credit to Brant Hale for this line) the only things this team is going to be good at is talking trash and whining to referees.