In the month of December, our household gets eight pieces of mail per day. Four are Christmas presents Missy ordered on Amazon, and four are letters from nonprofits soliciting donations.
Some of these places we've never even donated to. But it's the end of the year, which means not only Christmas but also end-of-year tax deduction season.
Seems like an appropriate time to share our family's thoughts and actions on charitable giving.
I grew up in a family that always stressed giving back to God. Every Sunday, I watched my parents put a check into the offering plate. A mailman and a schoolteacher with three kids, we were the definition of a middle class family in the 1980s and 1990s. We had everything we could ever need but not much more, so I understood the sacrifice my parents made by giving up 10% of their income every week. They didn't view it as a sacrifice, however. They just saw it as being obedient to God.
So when I got my first jobs as a 16-year-old, writing for the local newspaper and bagging groceries at the old Buchanan's, I immediately got in the habit of tithing that 10% from every paycheck.
I'm proud to say that I've maintained that habit for the past 25 years, although my reasons for doing so and the places that the money goes to have changed quite a bit over that time.
For years, I just gave the 10% to my local church, be it in Oklahoma City or Lawton once I moved there. It's a habit that the church writ large does a relentless job in helping form.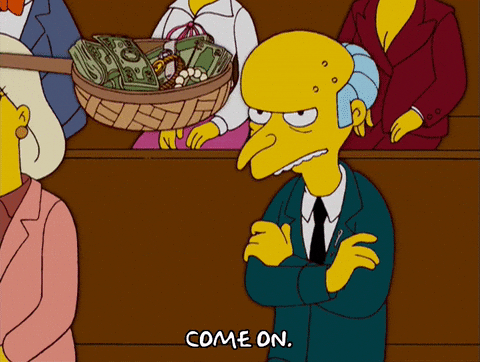 I don't want to make this post into a theological debate, and I don't want to dump onto an institution that on the whole has done great things and helped countless people both in a spiritual and physical sense.
To put it simply, many churches (including the one we currently attend) believe that the Bible instructs its followers to give 10% to their local church. I used to share this but no longer do. You have to jump through some Biblical hoops to come to this belief, and I'd be happy to discuss it with anyone who wants to but don't want to get into it here.
In a recent sermon at Draper Park Christian Church, my friend Clay Atchley did a great job of showing how Jesus and his disciples embodied the spirit of giving in a more extreme but less formulaic manner. The early church essentially gave everything to everyone. Instead of setting aside 10% of your pre-tax carpenter's paycheck, you literally opened your home up to anyone who needed a place to stay or a meal to eat, even if it left you with nothing.
I also believe in helping others from a social/political standpoint. I want less government in my life. Less taxes. But we as a society have to take care of the less fortunate people who can't take care of themselves. That means everyone who can needs to chip in so we can keep the government out of it. And yeah, we take the tax deductions when we donate.
Over time, I have been moved to give less and less money to the actual church and more and more to a variety of people and organizations. I should point out that thankfully Missy and I are in lockstep on this so it hasn't been a source of friction.
Despite my changing views, the amount we give is essentially the same. But where I used to view 10% as a Biblical amount needed to be obedient to God, I now just view it as a good number that allows us to make a difference.
Because of poker, our monthly income fluctuates quite a bit. At the end of the month, we sit down and decide what to do with that 10%. Usually one or both of us has something on our heart so that's what we'll do.
About once per year, that 10% does go back to our church. I believe our church does a lot of great things for people.
Sometimes, our support goes to charities that we've personally volunteered with. The Regional Food Bank, Special Olympics, City Rescue Mission, Cookson Hills and Habitat For Humanity all fall under that, and I know I'm leaving some great ones out. Some of those have a religious element to them and others don't, but Missy and I believe in what all of them are doing and love being able to help a little.
Many times, our 10% doesn't involve an official organization. If some of our family or friends is in a time of need, we will help. It's this kind of thing that I believe embodies what Jesus and his disciples were trying to communicate.
I don't write any of this to make us seem like great people. Missy is great. I hate myself a pretty high percentage of the time — doing our monthly donations is one of the times I don't.
I'd also love to learn about new places or causes to donate to. What moves your heart to action? Put them in the comments so we can learn more.
Merry Christmas, Happy New Year, and Happy Tax Deduction Season to you all.